As we all know, there is a refugee problem on our southern border as nearly 50,000 children (many unaccompanied) are making the dangerous trek to try to escape grinding poverty and violence in their home countries for a better life. But the country which gave our ancestors their chance at a better life for us, who took in the tired and the poor of the world, is no longer open for charity. The white "Christians" have theirs now, so the doors are closed, and that's why the anti-children Christians get today's Douche Award.
Tea Partyers and Republicans of all stripes, most claiming the mantle of Christianity, have literally ganged up on buses loaded with these children doing nothing more than taking them to processing centers. They will literally kill people for performing abortions, do all they can to end a woman's right to control her body, and claim that a fertilized egg is a human, but once you're born…fuck you.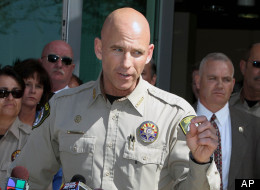 We even have Arizona's Pinal County Sheriff, Paul Bebeu, who leaked that 40 of the Children would be transported to a Children's Academy in Oracle. The response has been for local protesters to promise to black the bus, as has happened in other places. You can't imagine the hate that's just dripping in the comments on this article about it. Let me remind of what a great guy Babeu is. He's a closeted gay man who was dating an illegal immigrant himself, and threatened to have his lover deported if he outed him. So, he's OK with illegal immigrants who "service" him, but not others.
I daily grow more disgusted by the selfishness and hatred espoused by these so-called Christians. They seem to lack even the smallest understand of scripture that isn't about condemning others. They miss the entire Gospel Message of, each to his own needs, and now they've thrown that whole part about suffering the little children to come unto, for is such the kingdom of heaven. Continue reading »