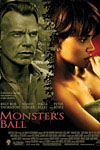 Hank, an embittered prison guard, lives with his aging racist father, Buck, and his own twenty something son, Sonny. Hank and Sonny work for the local prison where they are preparing the electric chair for a black inmate. After the man is executed, Hank falls in love with Leticia, the inmate's widow. This emotionally-charged affair forces Hank to re-evaluate how deeply prison work and his father's infectious hatred have affected his soul.
Genres: Drama, Romance and Thriller; Running Time: 1 hr. 51 min.; Release Date: December 26, 2001 LA/NY; MPAA Rating: R for strong sexual content, language and violence.
Starring: Billy Bob Thornton, Halle Berry, Peter Boyle, Heath Ledger, Sean 'Diddy' Combs
Directed by: Marc Forster
I can't believe it took me this long to get around to watching this movie. This was another movie watched last weekend. Given that I've always liked Billy Bob Thornton, I should have watched this movie a long time ago. All the parts were very well played, and the story was extremely well told. Berry won Best Actress, and I can say she certainly earned the award. I felt I could easily see this as a true story.