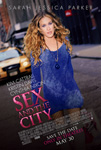 The continuing adventures of Carrie, Samantha, Charlotte and Miranda as they live their lives in Manhattan four years after the series ended.
Genres: Comedy, Drama, Romance and Adaptation; Running Time: 2 hrs. 25 min.; Release Date: May 30th, 2008 (wide); MPAA Rating: R for strong sexual content, graphic nudity and language.
Starring: Sarah Jessica Parker, Kim Cattrall, Cynthia Nixon, Kristin Davis, Christopher Noth
Directed by: Michael Patrick King
Lay always loved the series, and I enjoyed it, so we'd seen all the episodes, and as gifts over the years, I'd purchased lay the DVD's for all six seasons. It was an enjoyable series, but did seem to struggle a bit in the final season.
I think it got back to the basic formula that worked so well during the series run, and the characters continued to develop well. The movies is long, but I didn't get bored for the entire movie.
The story clearly revolved around the wedding of Big and Carrie, and I would like to have seen a bit more development of some of the sub-plots, but all in all it was well balanced.