Never sell the wingnut Replublicans in the Florida Legislature short. Last year they were busy saving us all from Automobile Testicles, and tried to eliminate daylight savings time (the logic being it would be less confusing for Senator Bill Posey). So now, two of our distinguished legislators have called for a Florida Constitutional Amendment to prohibit Floridians from participating in, an as yet non-existent, healthcare insurance reform.
So Rep. Scott Plakon and Sen. Carey Baker have introduce a Constitution Amendment that says: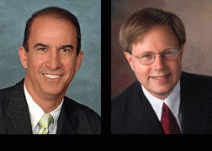 To preserve the freedom of all residents of the state to provide for their own health care:
A law or rule shall not compel, directly or indirectly, any person, employer, or health care provider to participate in any health care system.I called the offices of both.
How very Orwellian of them, protecting your freedom by removing your options. Who is more free than the man who has no obligation to choose?
Tom in Baker's office tells me that this has no teeth…it's just designed to send a message to Washington. You know, because the State of Florida has unlimited resources for operating the legislature and conducting elections on things that "have no teeth."
Now Brandon Delanois in Rep. Plakon's office was the most entertaining. First, he explained that he was, prior to going to work for the Representative, paying for his own health insurance, and had a plan for only $15.00 per month, but of course, refused to tell me what company was providing plans for only $15.00 per month.
I asked, "so the people who don't have health insurance…who pays for them when they get sick?" His answer was, "Anyone can go to an emergency room and get care. They won't turn away anyone." Of course I pressed him on who he thought paid for that "free" care at the ER. He finally agreed it was taxpayers.
But his argument was that the government should not mandate how people behave, and what choices they make. That the government should not require people to purchase insurance. So I asked him if the Representative would introduce a bill to rescind the law requiring that Florida residents who drive have auto insurance. Well, as you might imagine. according to him, that's not the same thing.
The jest of what I got out of this is that these two dweebs are merely playing for votes and publicity. I think we should give it to them, and not stop talking about how much it costs the taxpayers to pay for uninsured people, and just how much it costs the taxpayers for each bill that introduced, and what it costs to have a Constitutional Amendment on the ballot. You know, since Florida has so much surplus money floating around.