Yes, I know, I've been absent for a  while. I have written constantly for work lately, so it's hard to get in the mood to write more during my down time. But, those of you who know me, know I have opinions on lots of things, so I'm itching for some discussion.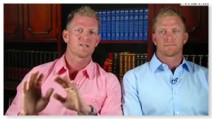 Today's topic is a recent controversy related a pair of twin brothers from Charlotte, David and Jason Benham. The Benham brothers made a small fortune flipping homes, and were recently working on a HGTV show. What HGTV didn't bother to find out was that the brothers have a particularly nasty streak when it comes to gays, abortion rights, and Muslims. When that came to light, that was the end of the show, and the beginning of their cries of persecution…because you know, the Constitution guarantees one the right to a TV show.
So let's dissemble what went on here. The brothers are, from most perspectives, a made for TV set. They're young and somewhat handsome. There are two of them (identical twins). They claim to be family oriented, wholesome and Christian, claiming all these missionary activities (more on that later). They've been successful flipping homes, and the premise of the show, called "Flipping it Forward," (apparently in a nod to their "minister" father Flip Benham) which was to help people get in a home who might not otherwise be able to afford said home. Sounds like a noble project.
But, here's where the problems begin, and like most problems, they begin at home. The twins' father, as noted above, is Flip Benham. Papa Benham heads the militant anti-reproductive rights group, Operation Rescue. He splintered from that group to start Operation Save. Continue reading »