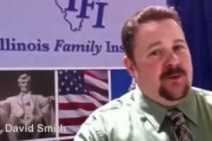 According to David E. Smith of the Illinois Family Institute, an anti-gay group claiming to be concerned with protecting heterosexual-only marriage, "A landlord should be able to discriminate and say, Look, I don't want to rent my apartment out or my condo out to anyone who doesn't share my values."
This from an article at One News Now, an arm of the SPLC designated hate group, American Family Association, which discusses the recent passage of an equal marriage rights bill in the Illinois Senate. David E. Smith of the Illinois Family Institute tells OneNewsNow that homosexual marriage is not equal. "That's not to say that homosexual people are not equal — I'm saying that the relationship is not equal; they are two different things," Smith shares.
Yet despite that fact that the Senate attached an amendment that explicitly states no church or other religious organization will be forced to solemnize same-gender marriages, that's just not enough for Smith.
And why would that not be enough. Well, because despite their claims:
This fight has never been about marriage. Gay people aren't clamoring to get married in churches (most want nothing to do with church), they simply want the same legal protections offered by the government to people in long-term committed relationships. The fight is because David E. Smith, despite claiming to be a Christian, is really a liar. In one breath he says he believes homosexuals are equal, yet in another he says business owners should be able to discriminate. That's not "equal."
You see David E. Smith is either one of the biggest idiots in Illinois, or one its biggest liars. The article goes to state, "Smith remains concerned that, should the measure become law, people of faith who own businesses such as hotels, bed and breakfasts, and wedding halls will be forced to do business with homosexuals." Well, I hate to tell him this, but they are already prohibited, by Illinois state law, from discriminating. This changes nothing.
So David, which is it, are you an idiot or a liar, or both?