Last Tuesday night/Wednesday morning was certainly a bittersweet time. As I've said before, I'm not one of the millions of Obama-maniacs, but I was glad he won. I think America will soon be in far better hands than she is now. I was even more pleased to see a good number of hateful and bigoted Republicans kicked to curb, and their nasty campaign rhetoric repudiated. Obviously though, the passage of the three anti-marriage amendments was a great disappointment.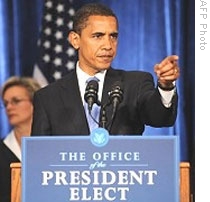 The Big Picture
Obama was clearly the winner, and it seems he did it with a tightly run and disciplined campaign. One of the heartening parts of his campaign was that it was funded to a record-breaking level by millions of smaller donations from everyday people. They relied on thousands of volunteers, and brought an untold number of new and younger people into the political system. And I don't mean just newly registered voters, but more important, people who made an investment of themselves into the campaign. I think that is critical in trying to restore democracy to this country. However, it means those millions have a vested interest in his success. That cuts both ways. It means he should get support, but people will expect results.
Certainly both sides ran attack ads. That is to be expected, but I found Obama's to be a lot fewer and a lot less nasty. The McCain just went out of their way to be disrespectful to Obama, and hateful in the messages they were putting out. I saw nothing but negative ads from the McCain campaign. At various times throughout the campaign, especially from the end of September during the economic collapse and through the election, McCain gave off a very real attitude of panic and foundering. It was clear that he and his campaign were struggling to find a voice. Obama seemed to remain calm, decisive and above it all…in short, he came off as more Presidential, and I think the voters perceived that.
What Was Different
I believe there was also something of a perfect storm of events and changes in the world that made this election different. Many of these were things the Republicans could not, or didn't, account for. In the end, I think they make our democracy stronger.  Continue reading »