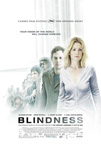 When a sudden plague of blindness devastates a city, a small group of the afflicted band together to triumphantly overcome the horrific conditions of their imposed quarantine.
Genres: Art/Foreign, Drama, Thriller and Adaptation; Running Time: 2 hrs.; Release Date: October 3rd, 2008 (wide); MPAA Rating: R for violence including sexual assaults, language and sexuality/nudity.
Starring: Don McKellar, Julianne Moore, Mark Ruffalo, Danny Glover, Alice Braga
Directed by: Fernando Meirelles
I was struggling with myself while deciding if I wanted to watch this movie, so we rented it and watched it Sunday night. It wasn't getting good reviews but I decided to go ahead and make up my own mind after seeing it. Most of the reviewers are right, this is something different. It makes us look at ourselves in a different way. Yes, at times it is intense, but maybe that's why some people don't like it. You have to be able to think of civilization in a different life.
The underlying story shows us just how tenuous is what we call "society/civilization," and how quickly it could break down.
Now, its not perfect, it probably ran about 15-20 minutes too long and there were times where you lost a little focus. There were a lot of parts of the story that just didn't seem to make any sense, and it seemed to resolve itself just a little to simplistically, but its was unique, and enjoyable in its own way. Don't forget, if the whole world did go blind, it wouldn't be very pretty. It's not something to take the kids to, but not a bad choice for adults.