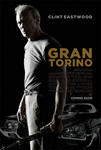 Walt Kowalski is a widower, grumpy, tough-minded, borderline-hateful, unhappy old man who can't get along with either his kids or his neighbors, a Korean War veteran whose prize possession is a 1973 Gran Torino he keeps in cherry condition. When his neighbor Tao, a young Hmong teenager, tries to steal his Gran Torino, Kowalski sets out to reform the youth. Drawn against his will into the life of Tao's family, Kowalski is soon taking steps to protect them form the gangs that foul their neighborhood.
Genres: Action/Adventure, Drama and Thriller; Running Time: 1 hr. 56 min.; Release Date: December 12th, 2008 (limited), January 16th, 2009 (wide); MPAA Rating: R for language throughout and some violence.
Starring: Cory Hardrict, Bee Vang, Clint Eastwood, Ahney Her, Brian Haley
Directed by: Clint Eastwood
I wanted to see this movie, so we went Saturday night. It wasn't the worst movie we've seen, but I was disappointed. As Ty Burr of the Boston Globe put it, "In the context of Clint Eastwood's career as a star, an actor, and a filmmaker, "Gran Torino" is an endlessly fascinating movie. If only it were a good one."
It was kind of an Archie Bunker meets Dirty Harry. I think a valiant attempt was made to tell a real story, and have an impact on how people think about each other. Unfortunately, it missed the mark. Eastwood's dialogue goes way over the top in attempting to show what a bigot he is. Even when he's in the home of his new neighbors eating with them, the insults continue to flow non-stop. I respect that the film was unabashed in showing this bigotry, it just went too far in trying to set it up.
If the performances by the supporting cast, mainly the young Asian boy, were stronger this could have made the movie a little better. Vang's performance really held the movie back, especially during the parts where he and Eastwood share screen time. The young priest in the movie was also pretty weak.
It's worth seeing, just wait until it is out on video.
Now click on the stars below to let us how you rate the movie, and then use the comments section to tell us what you think.