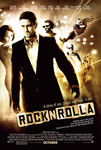 A Russian mobster orchestrates a crooked land deal, putting millions of dollars up for grabs and attracting all of London's criminal underworld.
Genres: Action/Adventure, Comedy and Crime/Gangster; Running Time: 1 hr. 57 min.; Release Date: October 3rd, 2008 (wide); MPAA Rating: R for pervasive language, violence, drug use and brief sexuality.
Starring: Gerard Butler, Tom Wilkinson, Thandie Newton, Idris Elba, Chris 'Ludacris' Bridges
Directed by: Guy Ritchie
Lay and I watched this movie last night on DVD. I admit I was tired, and didn't give it my full attention. One of my complaints was that the British accents were so heavy, it was hard to follow, but at least the Director was probably being true to the location.
The movie had a unique combination of violence and comedy. This can be hard a combination to do, and Ritchie did OK with it. The acting was fine (as best I could understand). The story line jumped around a lot with a number of plot lines, meaning it probably requires that you watch it twice. The visuals and cinematography was well done.
It was by no means a waste of time, but I'm glad I didn't pay theater prices to watch it.