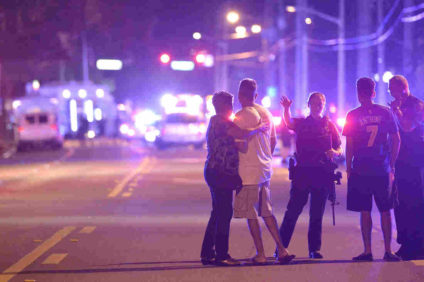 Wow, what disturbing news I woke to Sunday morning. We've been there in the past, and we've been to the Plaza Live where Christina Grimmie was killed, as the Orlando Gay Men's Chorus performs there. So far, we're not aware of any friends or acquaintances who were involved, but it is a tight enough community, I'm sure we at least have friends of friends who are.
This will all be kind of a random collection of my thoughts on this, so be understanding if I'm more incoherent than usual.
First, let's clear up something about the role the shooter's religion played, and whether this was an Isl?mic terrorist act, or as one "friend" on Facebook called it, Jihad. According to FBI Director, James Comey, the shooter came to their attention a few years ago when some folks at the Court House where he was working security, contacted the FBI after he made claims about being part of Al-Qaeda. They determined he was just making the claims in anger, and as something a threat. Kind of like kids who claim to be in a gang, when they aren't.
Of course, we all know now about his call to 911 claiming loyalty to the leader of ISIL, and mentioning the Boston Bombers. The Boston Bombers claimed to affiliated with Al-Qaeda. So, why does this matter? Well ISIL and Al-Qaeda are mortal enemies. He basically pledged allegiance to two diametrically opposed groups, Shi'a Hezbollah and Sunni ISIS. I think this shows the guy was either stupid, or too consumed by his rage to consider what he was saying, he just wanted to seem like a big guy on a big mission. I believe this takes all wind out of the sales of those trying to make this some sort of international terrorist event. It was not. Continue reading »