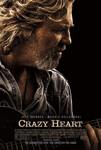 Jeff Bridges stars in this drama based on Thomas Cobb's first novel about an alcoholic country singer. The musician's career is going downhill as he watches his protégé's star ascend, but his encounters with a journalist (THE DARK KNIGHT's Maggie Gyllenhaal) might just keep him from hitting rock bottom. Oscar winner Robert Duvall costars and serves as one of the film's producers.
Genres: Drama, Musical/Performing Arts and Adaptation; Running Time: 1 hr. 51 min.; Release Date: December 16th, 2009 (limited); MPAA Rating: R for language and brief sexuality.
Starring: Jeff Bridges, Maggie Gyllenhaal, Robert Duvall, James Keane (II), Anna Felix
Directed by: Scott Cooper
We finally went out to see a movie. We're dying to see Alice in Wonderland, but were not about to see it opening weekend. Indeed, there were the expected wrap-around lines waiting to see Alice. We instead opted for Crazy Heart, and it was worth the ticket price.
I wouldn't call it perfect, and it certainly wouldn't be my vote for movie of the year. I think I would probably vote for Jeff Bridges for leading actor honors. Bridges is reserved, charismatic, and raw. Bridges' 58-year-old Blake is one of the better performances of the year. There are obvious comparisons to  to Mickey Rourke's work in The Wrestler, but this is unique in its own way. Bridges doesn't overcook the role which would have been easy, he's effortless and sings quite well. I was very surprised with the singing.
Jeff Bridges inhabits the songs he sings on screen as convincingly and seamlessly as he fits into the shambles of a life and mess of a body that is the film's protagonist. This musical integrity is important because Bad Blake is one of those disintegrating performers whose art has not faltered, though his life has. The songs he sings are his own, and when he's on stage, he's alive. The rest of the time he's lying, deceiving, or numbing out.
Maggie Gyllenhaal is average in her work. She's coy with Jean and underplays her, but unlike Bad Blake, her role doesn't call for it. Jean is a bruised, kindhearted, and devoted mother to her four-year old son Buddy (Jack Nation, as cute as can be), but uneven in forming her character.
Cooper's direction is very subtle, and while the story doesn't lend itself to action or even a lot of tension, he does let the story drag. In several scenes, he portrays the loneliness of the road showing Bridges driving his beat up Suburban over long empty roads. Effective, but instead three or four cuts, I got the message after about two of these.
The music was another bright spot in the movie. The song "The Weary Kind," which is submission for Best Original Song for the Academy Awards, is one of the best songs written for a film in recent years. Delightful lyrics and exquisitely executed, the song is the perfect song for this film.
Updated: I didn't get this finished yesterday, and now Bridges did get top honors at the Academy Awards last night, so congratulations to him.