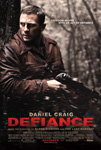 Four Jewish brothers living in Nazi occupied Poland escape into the forest where they join up with Russian resistance fighters in battling the Nazis. Throughout the war they built a village inside the forest and saved the lives of more than 1200 other Jews. Based on a true story.
Genres: Action/Adventure, Drama, Adaptation and War; Running Time: 2 hrs. 17 min.; Release Date: December 31st, 2008 (limited); MPAA Rating: R for violence and language.
Starring: Daniel Craig, Liev Schreiber, Jamie Bell, Alexa Davalos, Tomas Arana
Directed by: Edward Zwick
The too rarely told story of defying Nazis. Liev Schreiber and Daniel Craig are first rate, the action sequences strong, and the plot credible. This is not a "Holocaust" movie about Jews dying at the hands of the Nazis – it is about the heroism of average people who are forced to take up arms to fight against oppression. It's also about people trying to maintain a civil society when every aspect of their life is turned on it's head. When it comes to Daniel Craig's character,it's about a person having leadership thrust on him, and having to rise the occaision.