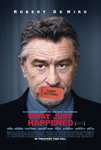 Two nail-biting, back-stabbing, roller-coaster weeks in the world of a middle-aged Hollywood producer as he tries to juggle an actual life with an outrageous series of crises in his day job. Ben is besieged by people who want him all to be sorts of things — a money maker, an ego buster, a bad news breaker, an artistic champion, a loyal husband, an all-knowing father, not to mention sexy, youthful and tuned-in — everything except for the one thing he and all the preposterously behaved people he's surrounded by really are: bumbling human beings just trying to survive by any means necessary.
Genres: Comedy and Adaptation; Running Time: 1 hr. 50 min.; Release Date: October 17th, 2008 (limited); MPAA Rating: R for language, some violent images, sexual content and some drug material.
Starring: Robert De Niro, Sean Penn, Bruce Willis, Stanley Tucci, John Turturro
Directed by: Barry Levinson
Lay and I went to see this movie Saturday night. The reviews are definitely not outstanding, but it was hardly a terrible movie. It certainly moved slowly in places, and a few parts were over-played. De Niro did a great job as the lead character. They did use a technique of doing fast forwards in the film. I think I know why the did it, but it really didn't add anything, as was overdone to the point of becoming a little annoying. All-in-all though, I'd say the film is worth watching, but probably not until its out on DVD.