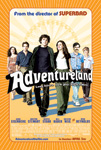 Welcome to Adventureland, where the worst job imaginable is about to inadvertently turn into the summer that changes everything. Adventureland, a self-professedly "funtastic" Pennsylvania amusement park, appears to be the bane of recent college graduate's James Brennan's existence. He previously had big plans to spend the summer on a life-altering trek through Europe that would initiate him into real adult life. But when his family suffers an economic downturn in the middle of the Reagan 80s, James' only summer trip is straight to a minimum wage job manning a game booth so existentially bankrupt, no one is even allowed to win the giant stuffed panda. Yet, Adventureland isn't quite what it seems on the surface. For behind the cloying cotton candy aroma, the grating disco songs and the near pathological customers, there's a whole other world of misfit friends, hidden dreams and most incredibly, after-work encounters with the alluringly sharp-tongued arcade girl, Em Lewin. And when James discovers the hard-won courage to go to battle for Em, the result is a savagely funny yet sweetly heart-felt and unexpected encounter with "real adult life."
Genres: Comedy and Drama; Running Time: 1 hr. 46 min.; Release Date: April 3rd, 2009 (wide); MPAA Rating: R for language, drug use and sexual references.
Starring: Jesse Eisenberg, Kristen Stewart, Martin Starr, Bill Hader, Kristen Wiig
Directed by: Greg Mottola
We rented this movie and watched it this past weekend. I think the problem I had was  expecting the "as advertised" comedy. This film is not a comedy. I think it has two jokes, and I don't mean it has only two "funny" jokes, I mean it has only two jokes. The studio is pushing this film as the next "Superbad", just because the director of that film directed this film. The truth is, this is far different from "Superbad", besides a few gross out gags. Where that film prided itself on its crudeness and vulgarity, this film prides itself on heart and pure emotion.
"Adventureland" has the feel of teen movies both from the 80's and 90's (more the 80's though). You have a sensitive character who is still trying to figure out who he is, and by a sequence of events, falls in love and more importantly, finds his true self. What makes the movie even more appealing is that it not only doesn't treat its characters as generic stereotypes, but as humans, which makes them more appealing to the audience.
Our main character here is James (played by Jessie Eisenberg) who has just graduated college and is looking forward to his trip to Europe with his fellow pal. Things unfortunately go south with his finances, which forces him to get a job at the local amusement park. There he meets some interesting people: the two owners (Bill Hader and Kristen Wiig), nerdy Joel (the likable Martin Starr) and the beautiful "Em" (Kristen Stewert).
James and Em quickly fall for each other, but there is one small problem, she is in a very dysfunctional relationship with Connell (Ryan Reynolds), who plays the married park maintenance guy. Reynolds, who usually adds the goofy humor to every film he is in, holds back to really give the character a deepness that I was surprised he pulled off.
What makes this film work though is that director Greg Mottola doesn't overdo any aspect of the movie. The comedy, drama, and situations are all well balanced, which makes the film feel real. As I stated before, Reynolds is grounded, as is the rest of the cast with their performances. Stewert gives Em vulnerability, but makes her lovable at the same time. These two give perfect performances because neither of them have all the answers and it is about the deep connection they share, not just about the sex.
So, overall the movie was good, but it takes time to get into it, because you are expecting one thing, but find something completely different.