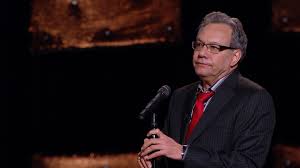 This past weekend was my birthday. I love Lewis Black, and have never seen him in person, so I was excited to find that he was performing his current show, "The Rant is Due, Part Deux," at the Straz Center here in Tampa Saturday evening, March 14.
So, Lay took me to a nice dinner at a Brazilian Steakhouse, and then we went to see the show.
Now let me start by saying that I love Lewis Black and his comedy. I've watched a couple of his shows that are available on the streaming services, and often found myself laughing out loud. I have laughed out loud several times when he's been on the Daily Show.
I was really disappointed when this show just seemed to go nowhere. His opening act, John Bowman, was better, but went on a tad too long. The show started late, and there was announced 15 minute intermission, which, as is always the case, was actually a little over 20 minutes, and then Lewis finally came out. Once in a while he got onto one of his rants, and seemed to remember what works for him, but mostly, it just wasn't that funny. I mean, come on, this is Floriduh. I think he had one wise-crack about Rick Scott, and all the other material was just left on the table. Bowman did a better job of segueing into some good local and Florida material.
They do a segment at the end where you can send him questions and comments to which he will respond. He got to about two of those, after spending what seemed like 5 minutes figuring out a reflection from the iPad he had, which didn't matter anyways.
I've seen him have great material, but this was just a huge let down. On top of that, the guy next to Lay kept his phone out for most of the second half of the show checking Facebook and showing it to his boyfriend. I was about to say something like, "Maybe we can ask the to hold up the show while you finish up with that important Facebook conversation." There were a few laughs, but it was not worth the $100 for the two of us.