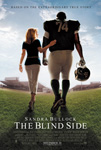 Michael Oher, a homeless African-American youngster from a broken home, is taken in by the Touhys, a well-to-do white family who help him fulfill his potential. At the same time, Oher's presence in the Touhys' lives leads them to some insightful self-discoveries of their own. Living in his new environment, the teen faces a completely different set of challenges to overcome. As a football player and student, Oher works hard and, with the help of his coaches and adopted family, becomes an All-American offensive left tackle.
Genres: Comedy, Drama, Adaptation, Biopic and Sports; Running Time: 2 hrs.; Release Date: November 20th, 2009 (wide); MPAA Rating: PG-13 for one scene involving brief violence, drug and sexual references.
Starring: Sandra Bullock, Tim McGraw, Quinton Aaron, Lily Collins, Ray McKinnon
Directed by: John Lee Hancock
Lay and me watched this as a download a couple of weeks ago. I wanted to see it more than he did, and I enjoyed it more than he did.
The Blind Side tells us an inspiring story in the kindest way, which along with competent performances and good intentions, ends up bringing us a nice entertaining time.
The first thing I appreciated on The Blind Side is the absence of cheap sentimentality. Besides, the message from the movie is shown on a natural way, because it is filtered into the sober narrative.The Blind Side does not pretend to plunge us into the sordid reality of the North American social system, and it even finds moments of humor into the racist comments from some hateful characters.The main attraction for many people before watching the movie will undoubtedly be the acclaimed performance from Sandra Bullock, which made her win an Oscar.Did she really deserve it? I tend to think she did not, but I definitely enjoyed her work.
The problem with this film's detractors is that they see this as more than the literal story of a rich Southern woman who helped a black youth with no hope for a bright future rise up and become an NCAA football star, and later a player with the Baltimore Ravens. I suppose this movie does fictionalize the true story a great deal and punch it up so that it is a quintessential "Feel-Good Hallmark Movie of the Year" (TM). Still, do not forget that it is based on a true story… it really happened. I think it is supposed to be an inspirational story for those with little hope of achieving big things with their lives; by the same token, it is also possible that "The Blind Side" became a book and movie because it was a rare occurrence, something that does not usually happen in this world.
In a big degree, Bullock repeats her classic routine of adorable mischievous, but on this occasion, she seasons it with a subtle intensity which brings weight and honesty to her character.I truly think this is one of the best performances from her career, and not only for the emotions she generates with her development, but also because she feels much more credible than the uncountable harebrained women she usually embodies in romantic comedies.
The fails I found on this movie is that some funny moments feel a bit forced, and that it turns a bit artificial near the end.
In summary, I think I can recommend The Blind Side with confidence, because it is a movie which fulfills with its intentions of inspiring, entertaining and even bringing us a slight lesson of humanity in order to appreciate everything we have a little more.