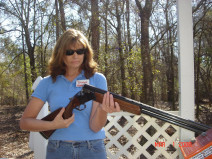 Same-sex marriage has arrived in Florida a midst great wailing and gnashing  of teeth. While arriving sooner than expected, it wasn't an easy delivery thanks to the political aspirations of our twice married and living in sin Attorney General, Pam Bondi. However, some Court Clerks are doing all they can to prove that, despite having to issue marriage licenses to same-sex couples, they still hate gay people as much as ever.
They're doing this in several counties by deciding to no longer provide solemnization ceremonies in the Clerk's office. This is a non-mandated service that's been traditionally provided, but since, if they provide it to straight people, they'd have to provide it to same-sex couples, they have elected to discontinue the service. One of the counties making that choice is the county just north of Tampa, Pasco County, and their Clerk, Paula O'Neil offered the money quote, ""The problem is we can't discriminate…" ((Tampa Bay Times, "As gay marriage approaches, several counties' clerks opt out of wedding ceremonies," Friday, January 2, 2015))
As I am wont to do, I've prepared a letter to fax to Ms. O'Neil, and since she's a public official, we'll consider it an open letter.
Paula S. O'Neil, Clerk & Comptroller
38053 Live Oak Avenue
Dade City, FL 33523-3894
Dear Ms O'Neil:
It was with a great deal of interest that I read your statements from a Tampa Bay Times article of January 2, 2015.
Let me ask you a question. Were I visiting Pasco County, and violated some law or regulation, would I avoid prosecution and accountability if I claimed that violating the law was based on a "consciously held religious belief," or if it simply made me "uncomfortable?" Or, is that particular "get out of jail free card" explicitly for people who happen to think that LGBT people are icky, and/or are court officials in your office?
If one of your Clerks had ever come to you (or did) saying they were "uncomfortable" conducting services for people who had been divorced, or multi-racial couples, would you have given them a pass from performing their duties.
You see Ms O'Neil, we both know this is not based on some biblical understanding of marriage. Trust me, I can refute every single verse your Clerks might offer for justifying their hate for LGBT people. Some knowledge of Greek and the context of the times goes a long way to an intelligent understanding of the Bible.
However, we know that this bigotry really isn't about the biblical view of marriage. Otherwise  your oh so evangelical Clerks would also be refusing to marry divorced people. While Jesus never had anything at all to say about homosexuality, he spoke explicitly about divorce, and he was, as we southerner's like to say, "agin it." Since I don't see your Clerks asking for accommodations relative to marrying divorcees, then we can be certain this is not about a biblical interpretation of marriage rights.
Now I understand that Florida law doesn't require you to provide solemnization ceremonies, and as with any government agency you are free to start or stop providing un-mandated services any time, but the blatant display of bigotry on the part of you and your staff is, even by Florida standards, breathtaking.
Your actions remind of some local governments in the south during the civil rights era, when courts determined that African-American children had the same right to use the municipal pool as white children, some cities just filled in the pool, rather than accept equal rights. This is what you are doing, and this is how history will judge you.
The religious freedoms of you and your clerks are not being violated by performing same-sex marriages, just as they are not violated when performing marriages for divorcees or multi-racial couples. They still have the right to hate gay people. They have the right to go to any church this Sunday morning, and pray to any god they choose, and say whatever prayer they want. Please don't justify what you are doing using Christianity of religion, just admit you and your clerks are bigots, and move on. The truth shall set you free Ms. O'Neil.
But you Ma'am ought to be ashamed of yourself. You statement, "The problem is we can't discriminate," is beyond hateful. It is disgusting coming from an elected official who swore an oath to protect and defend the Constitution. I'm sorry to hear that you and your religious beliefs have a problem with no longer being able to discriminate. It must be a horrible life you lead now that you no longer get to.
As if Florida were not already a joke, you just decide to pile on to the rampant stupidity that permeates Florida government.
Sincerely yours,
UPDATED: January 9, 2015 — I was surprised to receive a telephone call from Ms. O'Neil Monday after, and had a long discussion about the topic. I believe she was honest and genuine in her concern, and I appreciate the effort she made. Click here to read more details about the conversation.