I haven't been posting anything really in a long time. I've been writing so much for work, that even though there are lots of things I want to write about, I just haven't been able to find the motivation. However, there are a couple of stories lately I would like to share some thoughts about, and one is the horrible event at the movie theater in Aurora, CO this past weekend.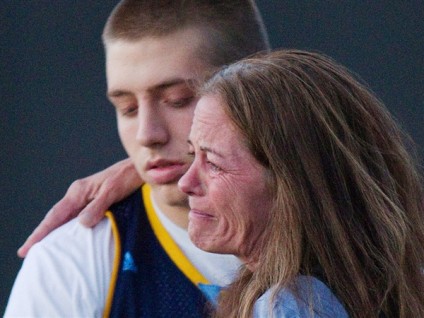 Here is my primary thought. To everyone who was actually touched by this calamity, my prayers are with you and your families.
My second thought is, everyone else needs to just take a breath, and let's bring some sanity to the discussion. We all want to know why. We want to understand how this person came to this place. We want to assign some motivation, some identifiable cause. We want to blame someone or something so it will look like we can control these situations. We want these answers because we want to be safe. We want to know how to identify this person in the future, or how to create circumstances where this can never happen again.
There are already those taking to the airwaves and the internets to blame Hollywood's violent movies, gaming violence, guns — both the lack of regulations and the lack of a gun-toting savior, our mental health system, troubled youth, social media, normalization of gun violence, lack of prayer in schools, gays, abortions. I've heard criticism of parents who brought children to the movie premier, midnight openings, and once in a while, even some mention of the alleged shooter.
We search for meaning in madness, and don't take the time to simply grieve. I understand that very basic human compulsion. But "why" will drive you crazy. Has everyone in the entire country forgotten what it's like to be around a two-year-old, … Why? Because I said so. Why? Because I'm in charge. Why?…." Sometimes there's just no good reason anyone can articulate for some of the things that happen in this world.
In my Sunday School class were doing a study from a book called The Psalms for Today by Beth LaNeel Tanner. Coincidentally, This past Sunday's lesson was "Learning to Live Without Fear." Appropriate for the time, no? This coming Sunday's lesson is on Psalm 13, and the Chapter is titled, "Living In A Broken World." The first five verses of the Psalm are, in the American Standard Version:
How long, O Jehovah? wilt thou forget me forever? How long wilt thou hide they face from me? How long shall I take counsel in my soul, Having sorrow in my heart all the day? How long shall mine enemy be exalted over me? Consider and answer me, O Jehovah my God; Lighten mine eyes, lest I sleep the sleep of death; Let mine enemy say, I have prevailed against him; Lest mine adversaries rejoice when I am moved.
You see, even David didn't have all the answers. Sometimes he cries out to God for some sign, for some deeper understanding. The Rabbi in Ecclesiastes often has the same response. They don't understand why some things happen in this world, yet we desperately want those answers. However, the rhetoric we're getting so far is not going to do anything to heal anyone, nor the nation, nor the world.
In her book, Dr. Tanner talks about how the Israelites often, for protection, carried a Psalm rolled into an  amulets. We Christians wear crosses and many wear St. Christopher necklaces. Dr. Tanner writes, "We have become a society where fear sells everything from the latest weather forecast to new cars. Much of our economy is fueled by tapping into our fears. If we own the right things, we can protect ourselves and our family from harm, and that will make us happy. We have replaced amulets with things that supposedly will keep us from harm and offer that ever elusive contentment."
We have this overblown fear when things like this happen that is out of proportion to the real danger. It's been noted that, while nothing takes anything away from terror and pure evil of this event, the 12 people killed here represent merely one-half of the total number of people killed by guns on an average day in the United States. John Mueller writes: "International terrorism generally kills a few hundred people a year worldwide—not much more, usually, than the number who drown yearly in bathtubs in the United States. Americans worry intensely about "another 9/11," but if one of these were to occur every three months for the next five years, the chance of being killed in one of them is 0.02 percent. Astronomer Alan Harris has calculated that at present rates, the lifetime probability that a resident of the globe will die at the hands of international terrorists is 1 in 80,000, about the same likelihood that one would die over the same interval from the impact on the earth of an especially ill-directed asteroid or comet." ((As quoted on American Broadcast Network's 20/20, Feb. 23, 2007. John Mueller was commenting about his book Overblown: How Politicians and the Terrorism Industry Inflate National Security Threats, and Why We Believe Them (New York: Free Press, 2006). These statistics apply to the world in general and not war zones such as Iraq.))
Let's take a look at some of the rhetoric up to now. Not surprisingly, the krazy kristian kooks have taken to the internets will all sorts of bullshit. Continue reading »