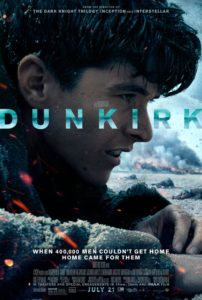 The film depicts the dramatic and true story of the Dunkirk evacuations from a war-torn beach and harbour in France, after the seemingly doomed plight of allied soldiers in World War II. As the enemy forces close in it seems the troops have nowhere to go, but help is at hand.
Director: Christopher Nolan
Writer: Christopher Nolan
Stars: Fionn Whitehead, Damien Bonnard, Aneurin Barnard, Barry Keoghan, Mark Rylance, Tom Glynn-Carney, Tom Hardy, Jack Lowden
Release Date: 21 July 2017; Rated PG-13 for intense war experience and some language; Run Time: 106 Minutes; Genres: Action, Drama, History, War
We went to watch this movie last night at the AMC Theaters in Brandon. We thought it was an outstanding and unique film.
I do want to comment about our disappointment, yet again, with the AMC Theater. While it was at least quiet for change during the movie, we sat through 28 minutes of previews. Now listen, I love the previews, but not 28 minutes worth to see a 100 minute movie. Additionally, I think this film is worth seeing in Imax, however, the Imax theater in Brandon is little more than a standard theater with a slightly larger screen down front, and the sound volume just turned up all the way. It was excruciatingly loud. See it in a real Imax theater.
Now on to this brilliant film. I read an interview with Christopher Nolan, and he explained that, while they wanted to be historically accurate, most all of the characters were fictional. They weren't trying to tell any specific story, but the broader story of what happened there. That was accomplished beautifully, and with almost no dialogue. Dolan describes the film more as a thriller than a war movie, and I think he managed. Several times I had to consciously make myself relax my muscles.
The acting was great, especially with so little dialogue. Christopher Nolan allows his players to internalize the fear and emotion, and allow them to express it in the most aromatic and penetrating demeanor's. As Tommy, Fionn Whitehead makes an astounding mark in his feature film début. With no true lead in the movie, his point of view is often a crutch for the audience to rest upon, as his internalization of the character is one of the film's most pivotal high points.
The film has three separate stories that are titled Mole, Sea and Air. The moles are the stories of a couple of soldiers just trying to get home. Sea are the stories of Brits who come to help get teh soldiers away. Air, of course follows a couple of British pilots. The way the narratives of the three stories unfold, and how they are all tied together is what makes the film a masterpiece.
Given the dearth of dialogue, the soundtrack is critical, and Hans Zimmer creates a soundtrack that weaves throughout the three narratives seamlessly and creates this phenomenal sense of tension. There are times when a two or three-minute tense orchestral passage plays continuously as the story shifts from the ground to the sea then to the air and the music draws the three stories together. Zimmer's soundtrack will definitely be a top contender at the Grammy's.
So well worth the money, even the splurge to see it in Imax, just be sure to see it in a real Imax theater. I give it a nine. Maybe this year's favorite film so far. I give it 9 stars. Click the stars below and let us know how you rate the movie.