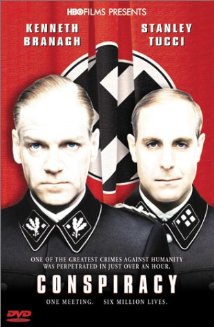 The historical recreation of the 1942 Wannsee Conference, in which Nazi and SS leaders gathered in a Berlin suburb to discuss the "Final Solution to the Jewish Question". Lead by SS-General Reinhard Heydrich, this group of high ranking German officials came to the historic and far reaching decision that the Jews of Europe were to be exterminated in what would come to be known as the Holocaust.
Rating: 7.9/10 (10,326 votes)
Director: Frank Pierson
Writer: Loring Mandel
Stars: Kenneth Branagh, Clare Bullus, Stanley Tucci, Simon Markey
Runtime: 96 min
Rated: R
Genre: Drama, History, War
Released: 19 May 2001
We watched this movie via Amazon Prime Saturday night. We were just surfing, and gave it a try, and it turned out to be a pretty decent movie, and well worth a thoughtful watching.
This movie could have been entitled, "how to chair a board meeting" or "how not to chair a board meeting" – given that the outcome of the meeting was the "final solution". Gen. Heidrich with consummate skill and care manipulated the gathered Nazi hierarchy to the pre-arranged and pre-destined solution to the Jewish question. Continue reading »