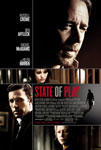 Handsome, unflappable U.S. Congressman Stephen Collins is the future of his political party: an honorable appointee who serves as the chairman of a committee overseeing defense spending. All eyes are upon the rising star to be his party's contender for the upcoming presidential race. Until his research assistant/mistress is brutally murdered and buried secrets come tumbling out.
D.C. reporter Cal McCaffrey has the dubious fortune of both an old friendship with Collins and a ruthless editor, Cameron, who has assigned him to investigate. As he and partner Della try to uncover the killer's identity, McCaffrey steps into a cover-up that threatens to shake the nation's power structures. And in a town of spin-doctors and wealthy politicos, he will discover one truth: when billions are at stake, no one's integrity, love or life is ever safe.
Genres: Drama, Thriller, Adaptation and Politics; Running Time: 1 hr. 58 min.; Release Date: April 17th, 2009 (wide); MPAA Rating: PG-13 for some violence, language including sexual references, and brief drug content.
Starring: Russell Crowe, Ben Affleck, Rachel McAdams, Helen Mirren, Robin Wright Penn
Directed by: Kevin MacDonald
I'd heard a few good reports about this movie and like Russell Crowe, so decided to go and see it for myself. Crowe is certainly back on form on this movie and whilst his performance is not quite as good as the one in the Insider, it's certainly in the ballpark.
The movie follows Cal who is a wise old journalist and a bit uncomfortable about the increasingly celebrity gossip driven media. He is thrown together with a young journalist Della played by Rachel Adams. For me the (working) relationship between the two of them never really works and is the weakest part of the film. It almost feels as if the producers will not green light the film unless it's got a pretty young female playing a rather irrelevant character. the film is based on a TV programme and it would be interesting to compare and contrast who played that role in the original.
Congressman Stephen Collins (Ben Affleck) is helping with the government investigation of a shady military-based company when he receives word that his mistress has committed suicide. Visually distraught, he leaves a hearing in tears and sets off a media circus. Cal McAffrey (Russell Crowe) was his roommate in college, and the two have remained friends. In a bid to quash the political blogging of junior reporter Della Frye (Rachel McAdams), McAffrey sets out to find the truth about the story.
State of Play starts out as a bit of  a cookie-cutter, predictable thriller. But as the film progresses, some interesting plot twists develop. The film is heavily dialogue-driven, but there is enough suspense in the movie to keep you guessing and trying to solve the plot twists.
It's a couple of entertaining hours and whilst it may not be anything new, it's certainly enjoyable.