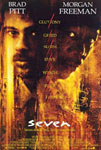 Lt. William Somerset, a burnt-out veteran cop, is on the brink of retirement. Forced to train his ambitious and eager replacement, Somerset is teamed with Detective David Mills on an investigation that draws these disparate cops deeper and deeper into the twisted world of a cunning and meticulous criminal. He is methodical, exacting and grotesquely creative. He is known as John Doe and he is the most vicious serial killer alive, fashioning murders based on the seven deadly sins. As each new victim is discovered, the detectives must combine their collective experiences to track the trail of a killer bent on seeking attrition for society's sins.
Genres: Drama, Thriller and Crime/Gangster; Running Time: 2 hrs. 5 min.; Release Date: September 22nd, 1995; MPAA Rating: R for grisly afterviews of horrific and bizarre killings, and for strong language.
Starring: Morgan Freeman, Brad Pitt, Gwyneth Paltrow, R. Lee Ermey, Richard Roundtree, Kevin Spacey
Directed by: David Fincher
This was a movie we watched weekend before last. It was better than I expected. I started watching this movie and i couldn't stop until it was over. This gritty film about a serial killer who is doling out punishments according to The Seven Deadly Sins, and leaving a trail of crumbs that lead two police officers to a final act that will leave you stunned with disbelief. What a great storyline and the acting was pretty good. Freeman played a great cop and an extremely creepy Kevin Spacey is an exceptional demented bad guy. Brad Pitt is much younger then, and some inexperience comes through, but overall he handles the part reasonably well. The ending of this movie will shock you, probably my favorite ending of any movie and it's not often you see Hollywood end a movie like this. Such a dark movie that it will leave you thinking about it for days after the movie. You have to see this one.