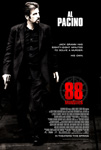 Dr. Jack Gramm is a college professor who moonlights as a forensic psychiatrist for the FBI. When Gramm receives a death threat claiming he has only 88 minutes to live, he must use all his skills and training to narrow down the possible suspects, who include a disgruntled student, a jilted former lover, and a serial killer who is already on death row, before his time runs out.
Genres: Drama and Thriller ; Running Time: 1 hr. 47 min.; Release Date: April 18th, 2008 (wide); MPAA Rating: R for disturbing violent content, brief nudity and language.
Starring: Al Pacino, Alicia Witt, Leelee Sobieski, Neal McDonough, Benjamin McKenzie
Directed by: Jon Avnet
Not great but not awful either. It is worth a rental fee but not much more. Pacino played his roll as best you can given the very bad screenplay. Unfortunately, the movie was disjointed, and a lot of the plot lines just really didn't add to the story. Some of the other actors came across as amateurish.