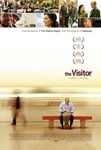 In a world of six billion people, it only takes one to change your life. Sixty-two-year-old Walter Vale is sleepwalking through his life. Having lost his passion for teaching and writing, he fills the void by unsuccessfully trying to learn to play classical piano. When his college sends him to Manhattan to attend a conference, Walter is surprised to find a young couple has taken up residence in his apartment. Victims of a real estate scam, Tarek, a Syrian man, and Zainab, his Senegalese girlfriend, have nowhere else to go. In the first of a series of tests of the heart, Walter reluctantly allows the couple to stay with him. Touched by his kindness, Tarek, a talented musician, insists on teaching the aging academic to play the African drum. The instrument's exuberant rhythms revitalize Walter's faltering spirit and open his eyes to a vibrant world of local jazz clubs and Central Park drum circles. As the friendship between the two men deepens, the differences in culture, age and temperament fall away. After being stopped by police in the subway, Tarek is arrested as an undocumented citizen and held for deportation. As his situation turns desperate, Walter finds himself compelled to help his new friend with a passion he thought he had long ago lost. When Tarek's beautiful mother Mouna arrives unexpectedly in search of her son, the professor's personal commitment develops into an unlikely romance. And it's through these new found connections with these virtual strangers that Walter is awakened to a new world and a new life.
Genres: Comedy and Drama; Running Time: 1 hr. 48 min.; Release Date: April 11th, 2008 (wide); MPAA Rating: PG-13 for brief strong language.
Starring: Richard Jenkins, Haaz Sleiman, Danai Gurira, Hiam Abbass, Marian Seldes
Directed by: Tom McCarthy
Lay and I watched this on DVD several weeks ago, and I neglected  to provide a review. I don't remember seeing previews, and I don't recall seeing this movie in theaters, but this is an excellent film well worth watching. Written and Directed by Thomas McCarthy, The Visitor is gorgeously made on every level including the music, the editing, and the gentle way the story is told. Everyone in this film just gets it right. One would guess there was magic during the shooting of this film.
One might also have imagined Jeff Bridges or Bill Murray playing the lead. And they would have been wonderful but then so is Jenkins. In fact, he makes the film that much more real. The balance and blending of his character against the others is rare film chemistry. Haaz Sleiman who plays Tarek does a really good job. But when Hiam Abbass walks into the film, the movie jumps into another gear.
The Visitor is beautifully engaging from the beginning. You meet a middle-aged professor who is failing at piano lessons and firing all of his teachers. This is as much as I will reveal. (I hate talking plot or reading reviews with too much plot coverage) The movie is intelligent, yet not pretentious. In fact, its honesty is why this reviewer is so excited.