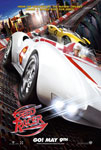 Born to race cars, Speed Racer is aggressive, instinctive and, most of all, fearless. His only real competition is the memory of the brother he idolized – the legendary Rex Racer, whose death in a race has left behind a legacy that Speed is driven to fulfill. Speed is loyal to the family racing business, led by his father, Pops Racer, the designer of Speed's thundering Mach 5. When Speed turns down a lucrative and tempting offer from Royalton Industries, he not only infuriates the company's maniacal owner but uncovers a terrible secret – some of the biggest races are being fixed by a handful of ruthless moguls who manipulate the top drivers to boost profits. If Speed won't drive for Royalton, Royalton will see to it that the Mach 5 never crosses another finish line. The only way for Speed to save his family's business and the sport he loves is to beat Royalton at his own game. With the support of his family and his loyal girlfriend, Trixie, Speed teams with his one-time rival – the mysterious Racer X – to win the race that had taken his brother's life: the death-defying, cross-country rally known as The Crucible.
Genres: Action/Adventure, Science Fiction/Fantasy and Adaptation; Running Time: 2 hr. 15 min.; Release Date: May 9th, 2008 (wide); MPAA Rating: PG for sequences of action, some violence, language and brief smoking.
Cast: Emile Hirsch, Susan Sarandon, John Goodman, Christina Ricci, Matthew Fox, Kick Gurry, Benno Furmann, Rain, Paulie Litt, Scott Porter, Richard Roundtree, Christian Oliver, Nayo K. Wallace, Hiroyuki Sanada, Roger Allam, Yu Nan, Nicholas Elia, Ariel Winter
Director: Larry Wachowski, Andy Wachowski
Despite liking John Goodman and Susan Sarandon, I really had no interest in seeing this film. We had downloaded it via the Tivo from Amazon Unboxed for Lay's nephews to watch this weekend when they were over. I do remember watching this cartoon as a kid. This was quite a challenge to try to satisfy people used to the anime version of the show.
The boys liked it OK, and I thought the film did a nice job of capturing an eye-poppingly colorful cartoon aesthetic, but I think too much of the film was a cartoon. The racing scenes were all pretty much CGI, and I can certainly see that a lot of the work is already done for the video game producer.
I wasn't the worst movie, but it was not great.