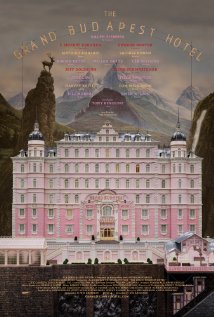 GRAND BUDAPEST HOTEL recounts the adventures of Gustave H, a legendary concierge at a famous European hotel between the wars, and Zero Moustafa, the lobby boy who becomes his most trusted friend. The story involves the theft and recovery of a priceless Renaissance painting and the battle for an enormous family fortune — all against the back-drop of a suddenly and dramatically changing Continent.
Rating: 8.2/10 (179,874 votes)
Director: Wes Anderson
Writer: Stefan Zweig (inspired by the writings of), Wes Anderson (screenplay), Wes Anderson (story), Hugo Guinness (story)
Stars: Ralph Fiennes, F. Murray Abraham, Mathieu Amalric, Adrien Brody
Runtime: 100 min
Rated: R
Genre: Comedy
Released: 28 Mar 2014
I watched this a couple of Saturday's ago by myself when Lay had to work. I'd worked especially had during the week day evenings to get chores done, and have a real day off. While I did wind up having to trim a rather large and tall hedge we have on one side of the house. But this was a nice way to spend a quiet Saturday afternoon.
This film is funny, absurd (what else would you expect from Wes Craven), poignant, and exciting all at the same time. 
It's all about a hotel concierge, Gustave H., who is being chased by various villains for stealing a painting. All this is set against the backdrop of the Nazis invading Central Europe (although in Anderson's fantasy world they are not called Nazis off course). Some of the scenes are very funny, but there is always a darker tone because of the looming war. Anderson doesn't shy away from extreme violence, but he shows it in an offbeat and almost comical manner.
My favorite scene, where it all comes together, (click if you don't mind a mild spoiler) shows concierge in hotels all over Europe, calling each other to help Gustave H. Each of them is shown in his hotel (with a wonderful fantasy name off course), busy doing some important job like tasting the soup or giving first aid to an unconscious hotel guest, when he is being called away to the telephone. Each hands the job over to his assistant, and answers the phone. This fast succession of little scenes is done so perfectly, it's a great joy to watch.
My review of Monuments Men pointed out that putting the likes of George Clooney, Matt Damon, Cate Blanchett, Jean Dujardin, Bill Murray and Hugh Bonneville in the same film was no guarantee of a great film. Following that logic, what should we make of the following turning up together: Ralph Fiennes, Bill Murray, F. Murray Abraham, Adrien Brody, Willem Defoe, Jeff Goldblum, Jude Law, Edward Norton, Tom Wilkinson, Saoirse Ronan, Owen Wilson and (a wonderfully made up) Tilda Swinton? The answer is a near masterpiece of cameos that add up to a highly entertaining and memorable film.
Is it a great film? I don't think I'd go that far, but it is a very fun film with a well told and intricate story that is full of fun and dialogue that is almost poetic. This one is well worth watching. Click on the stars and add your rating below.