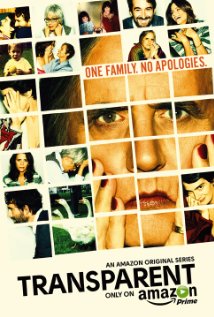 An LA family with serious boundary issues have their past and future unravel when a dramatic admission causes everyone's secrets to spill out. Transparent is an Amazon production made available as part of the Amazon Prime streaming media collection.
Writer: Jill Soloway
Stars: Jeffrey Tambor, Gaby Hoffmann, Amy Landecker, Jay Duplass, Judith Light
Genre: Comedy
Released: 06 Feb 2014
Me and Lay binge watched all 10 episodes Friday night.
Jeffrey Tambor is brilliant– gives a thoughtful nuanced performance that evolves and changes as the series continues.
It's true that there are some stereotypical character moments; the mom (Judith Light) urges food on her kids, carries a gallon jug of mustard to a wake ("everybody likes mustard") and embarrasses her children.  She also over-plays the "Jewish Mother" character as an old lady.  Though the show is, as others have noted, not really a comedy, it does contain a good dose of laugh-out-loud moments and plenty of good humor in its treatment of the topics it approaches.
The bottom line is that, by the end of the series, each of the family members is fully fleshed out — flawed, complex, sometimes, but not always, likable. Kind of like real life. Indeed, I was so immersed in their lives that it's hard to leave them behind. I'm glad Amazon has ordered another season.