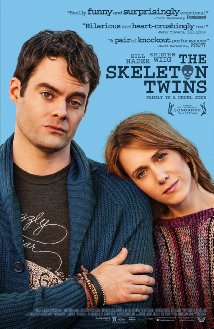 After many years of estrangement, twins Maggie and Milo lead separate lives on opposite sides of the country. When both feel that they're at the end of their ropes, an unexpected reunion forces them to face how their lives went so wrong. For Maggie, that means re-examining her marriage to sweet "nature frat boy" Lance and her own self-destructive tendencies, while Milo must face the pain of an early heartbreak he never got past. As the twins' reunion reinvigorates them both, they realize the key to fixing their lives just may lie in accepting the past and mending their relationship with each other.
Runtime: 93 min; Rated: R; Genre: Drama; Released: 11 Sep 2014
Director: Craig Johnson
Writer: Craig Johnson, Mark Heyman
Stars: Bill Hader, Kristen Wiig, Luke Wilson, Ty Burrell
We had missed this at the theaters, even though it was something we'd wanted to watch, Lay especially. It was finally available in Redbox a few weeks ago, so we watched it.
The movie follows two siblings who, after 10 years of not talking, are brought together after they both attempt suicide on the same day. Together, they attempt to work out their own lives and end up learning how to be siblings again. The story feels original. It plays out realistically and resolves itself realistically, but also ends in a satisfying way.
The tone is odd and kinda hard to determine, but it goes bath and forth between fun and hopeful to realistically depressing. It's got a good pace, but some may find it slow.
The acting is very good. Stars Bill Hader and Kristen Wiig give strong performances and manage to portray deep emotions. The characters themselves are sometimes hard to like because they feel real, and broken people are sometimes hard to like. You do always hope and feel for them though!
I would not have been disappointed paying the theater price for this film. However, don't watch it on a night you are already feeling a little down. It's realistic and satisfying, but it is not a real pick-me-up movie.