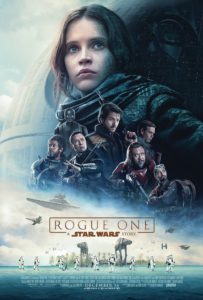 All looks lost for the Rebellion against the Empire as they learn of the existence of a new super weapon, the Death Star. Once a possible weakness in its construction is uncovered, the Rebel Alliance must set out on a desperate mission to steal the plans for the Death Star. The future of the entire galaxy now rests upon its success.
Director: Gareth Edwards
Writers: Chris Weitz, Tony Gilroy,John Knoll, Gary Whitta, George Lucas
Cast: Felicity Jones, Diego Luna, Alan Tudyk, Donnie Yen, Wen Jiang,  Ben Mendelsohn, Guy Henry, Forest Whitaker, Jimmy Smits, James Earl Jones
Music: Michael Giacchino
Rating: PG-13; Run Time: 2h 13min; Genre: Action, Adventure, Sci-Fi; Release Date: 16 December 2016 (USA)
Lay's not into the these, so I watched this a few Saturday's back when he was having to work. It was definitely worth watching if you are a Star Wars fan. I'd say it beats several of last Star Wars movies.
"Rogue One" is somewhat an anomaly; it's the first non-Episode Star Wars film, set before the events of the original 1977 film. The clear purpose of "Rogue One" was to answer the question: "How did Princess Leia get the plans to the Death Star?"  The question is, does it live up to what it sets out to accomplish? In my opinion, yes, with a few issues along the way.
One of the things this movie gets right is how much it ties into the Star Wars Universe. You have characters from both the prequel and original trilogy showing up here in the form of cameos or even as main plot devices. While some of these additions can feel forced at times, I would not have taken any of them away, and it reminds how connected this film is to the others.
I also enjoyed, for the most part, the new characters. Felicity Jones does a good job as Jyn Erso and carries the movie well. We get to know a great deal about her backstory and the connection with her father (played by the always awesome Mads Mikkelson), which plays a huge role in the film. Diego Luna does a good job in the supporting character role, and his characters shows you a different side to the rebellion that we haven't seen before. Alan Tudyk is great as the comic-relief robot K-2SO, and Donnie Yen is great as Chirrut Imwe, who was a cool, almost Jedi-like character (he's not, if anyone is wondering).
The action is intense and fast paced, particularly in the film's last act, which is outstanding. You feel the intensity of every moment and the gritiness of the war that is going on. I'm not sure I would go with those who are saying that is a totally dark movie, but the film does end on a very bittersweet note that actually packed a lot of emotion within it. Visually, the film is also stunning, with most of the visual effects exceeding. Again, I love that they are using both practical and visual effects, something I look forward to see more of in the future.
The film also does something that most prequels (including the Star Wars ones) fail to do: it adds to the original. It fixes plot holes that were found in the original, but it also adds weight to the events found in A New Hope. You understand the gravity of this situation, how important it was and how much sacrifice went into it. It's nice to see this film do that.
Of course with any movie, there are flaws, and Rogue One's problems mainly have to do with its story, the character development in particular. There are some characters who were fleshed out fine (Jyn, Cassian, etc.), but then there were others where you didn't really get to learn the motivation behind their actions. I would have liked to have learned more about some of them. I also felt like the story, while overall consistent and well-written, was edited together very oddly. In the beginning of the film, we jumped from several different moments within the span of a couple of minutes. This may be due to the re-shoots that occurred a few months before this film's release, but still, it felt jumpy, and I kept thinking I'd missed something.
However, despite my problems with the movie, "Rogue One" is a great addition to the Star Wars universe and is, in many ways, the prequel that should have been. This is what many people, including myself, wish the Star Wars prequels had been, because not only does it connect the dots between films, it also adds weight and importance to the events of the original Star Wars. It may not be perfect, but with this film, Lucasfilm continues to prove that Star Wars is back and better than it has been in a while.