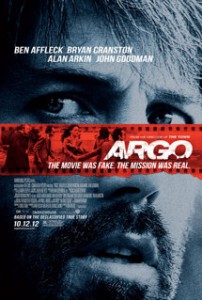 The true story of the life-or-death covert operation to rescue six Americans, which unfolded behind the scenes of the Iran hostage crisis–the truth of which was unknown by the public for decades. In 1979, the American embassy in Iran was invaded by Iranian revolutionaries and several Americans are taken hostage. However, six manage to escape to the official residence of the Canadian Ambassador and the CIA is eventually ordered to get them out of the country. With few options, exfiltration expert Tony Mendez devises a daring plan: to create a phony Canadian film project looking to shoot in Iran and smuggle the Americans out as its production crew. With the help of some trusted Hollywood contacts, Mendez creates the ruse and proceeds to Iran as its associate producer. However, time is running out with the Iranian security forces closing in on the truth while both his charges and the White House have grave doubts about the operation themselves.
Release Date: October 12, 2012; MPAA Rating: R (for language and some violent images); Genres: Action/Adventure, Adaptation, Comedy, Drama; Run Time: 2 hours.
Director: Ben Affleck
Cast: Ben Affleck, Alan Arkin, John Goodman, Bryan Cranston, Taylor Schilling, Scoot McNairy, Rory Cochrane, Christopher Denham, Kerry Bishé, Kyle Chandler, Chris Messina,     Zeljko Ivanek, Titus Welliver.
Lay and me saw this movie last weekend. Continue reading »