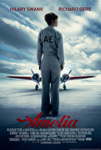 After becoming the first woman to fly across the Atlantic, Amelia was thrust into a new role as America's sweetheart – the legendary "goddess of light," known for her bold, larger-than-life charisma. Yet, even with her global fame solidified, her belief in flirting with danger and standing up as her own, outspoken woman never changed. She was an inspiration to people everywhere, from First Lady Eleanor Roosevelt to the men closest to her heart: her husband, promoter and publishing magnate George P. Putnam, and her long time friend and lover, pilot Gene Vidal. In the summer of 1937, Amelia set off on her most daunting mission yet: a solo flight around the world that she and George both anxiously foresaw as destined, whatever the outcome, to become one of the most talked-about journeys in history.
Genres: Drama and Biopic; Running Time: 1 hr. 51 min.; Release Date: October 23rd, 2009 (wide); MPAA Rating: PG for some sensuality, language, thematic elements and smoking.
Starring: Hilary Swank, Richard Gere, Ewan McGregor, Christopher Eccleston, Joe Anderson
Directed by: Mira Nair
I wanted to see this movie when it was out in theaters, but we never made it. I downloaded it from Amazon, and Lay and me watched it Saturday night. We were both disappointed.
This film had so much on its side. Excellent actors, a fascinating subject, in fact the whole thing reeked of Oscar-Worthy…until I saw it. I can tell an attempt was made at an epic movie, but it falls short.
Swank gives a solid performance as the flying ace. She both looks the part and acts the part very well. I must say that I did not know an awful lot about Amelia Earhart other than the common knowledge about her, but I feel like Swank embodied pretty much what I would expect Amelia to be, and her physical likeness to Amelia remarkable. But the director failed to remind Richard Gere that he wasn't playing Billy Flynn in "Chicago", coming across as a shallow opportunist whose emotion for Amelia seemed forced, as he was only in love with money. Ewen McGregor was no less wooden, appearing as just another rich sleazebag in search of a shag. Add in a faint hint of lesbianism, dropped completely no sooner than it was picked up, so why bother? Add in an excessive amount of focus on Gore Vidal, maybe to try and portray Amelia's suppressed maternal instincts, but again, merely toyed with in the bedroom scene, in which I genuinely thought she was about to break into "whistle a happy tune"!
"Amelia" is a highlights reel of Amelia Earhart's life, faithfully chronicling all the significant events of the famed aviatrix's career. However, it is hollow and nowhere is this more apparent than in the depiction of Earhart's relationships. Or the lack of it. There's no buildup, no exposition, no sort of character interaction to motivate any kind of bond or love forming between individuals. Things just kind of happen. Amelia falls in love, falls out of love, and falls in love all over again, all without any sort of event or prompt to motivate it.
In fact, that's the problem of the entire film. Things just happen with little or not buildup or motivation in between. Poignant moments come and go with no warning or conclusion, rendering them meaningless and out of context. It seems almost as though the director Mira Nair tried a little too hard in the wrong direction.
The script fails with the jumping around in time. While this can be an effective technique, it did not work here because we weren't given queues as to where/when we were in each scene until later in the scene. We were both disappointed in this film.