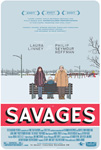 The last thing the two Savage siblings ever wanted to do was look back at their difficult family history. Having wriggled their way out from beneath their father's domineering thumb, they are now firmly cocooned in their own complicated lives. Wendy is a struggling East Village playwright, AKA a temp who spends her days applying for grants, stealing office supplies and dating her very married neighbor. Jon is a neurotic college professor writing books on obscure subjects in Buffalo. Then comes the call that informs them that the father they have long feared and avoided, Lenny Savage, is slowly being consumed by dementia and they are the only ones that can help. Now, as they put their already arrested lives on hold, Wendy and Jon are forced to live together under one roof for the first time since childhood, rediscovering the eccentricities that drove each other crazy. Faced with complete upheaval and battling over how to handle their father's final days, they are confronted with what adulthood, family and, most surprisingly, each other are really about.
Genres: Drama; Running Time: 1 hr. 53 min.; Release Date: November 28th, 2007 (limited); MPAA Rating: R for some sexuality and language.
Starring: Philip Seymour Hoffman, Laura Linney, Philip Bosco, Gbenga Akinnagbe, Cara Seymour

Directed by: Tamara Jenkins
Lay and I watched this on DVD Saturday night, and were both very pleasantly surprised. I expected a big attempt at a tear-jerker. While the story does concern the problems visited on us by aging, this is a funny, insightful, realistic story about a brother and sister who have to take on a problem that most of us sooner or later face.
Hoffman and Linney are both just terrific, and their roles are more 3 dimensional than we usually see in a film about dealing with the family crisis du jour. Both manage to take relatively unsympathetic, selfish, immature and emotionally stunted people to a place where we can understand and even like them, much like we do the family black sheep ne'er do wells in our own families.
There are some uncomfortable moments of recognition for peope who might have had the experience of having to institutionalize an aging parent or loved one–the guilt, the fear, the resentment, the family strife, the sadness. But there is also humor and even some relatively uplifting moments when these siblings manage to rise to the occasion even as they are dragged kicking and screaming to responsibility for seeing to it that an imperfect parent has at least some dignity and quality of life at the end.
The cinematography was minimalist and realistic and really stood out to me and helped tell the story. The sense of mood and place was very well done.