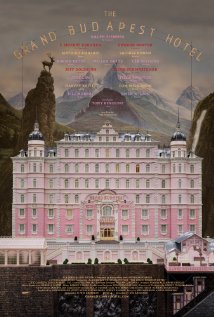 GRAND BUDAPEST HOTEL recounts the adventures of Gustave H, a legendary concierge at a famous European hotel between the wars, and Zero Moustafa, the lobby boy who becomes his most trusted friend. The story involves the theft and recovery of a priceless Renaissance painting and the battle for an enormous family fortune — all against the back-drop of a suddenly and dramatically changing Continent.
Rating: 8.2/10 (179,874 votes)
Director: Wes Anderson
Writer: Stefan Zweig (inspired by the writings of), Wes Anderson (screenplay), Wes Anderson (story), Hugo Guinness (story)
Stars: Ralph Fiennes, F. Murray Abraham, Mathieu Amalric, Adrien Brody
Runtime: 100 min
Rated: R
Genre: Comedy
Released: 28 Mar 2014
I watched this a couple of Saturday's ago by myself when Lay had to work. I'd worked especially had during the week day evenings to get chores done, and have a real day off. While I did wind up having to trim a rather large and tall hedge we have on one side of the house. But this was a nice way to spend a quiet Saturday afternoon.
This film is funny, absurd (what else would you expect from Wes Craven), poignant, and exciting all at the same time.  Continue reading »