This past weekend, Lay and I went to see Paranormal Activity (click for my review of the movie). Based simply on scheduling and location we decided to see it at CineBistro in Hyde Park Village. Our take on the experience is somewhat mixed.
CineBistro is a concept created by Cobb Theaters. On their website, they describe it as follows:
Get ready for a CinéBistro experience that will offer anyone who has a passion for movies and a palate for great food an environment unlike anything they have ever experienced before. Each features an upscale, yet inviting and comfortable atmosphere in which to dine while watching a major motion picture.
Cobb CinéBistro will be located in a few, select markets and we're confident this new upscale theatre experience will rapidly become a favorite of the twenty-one year old and up sophisticated movie-goer.
I'd heard about CineBistro and was interested in checking it out. I lived a few blocks from Hyde Park many years ago the first time I lived here in Tampa, and frequently walked up to the then AMC Theater on Sunday afternoons. Hooked on to the corner of the theater was a restaurant. I only ate there once, and wasn't overly impressed.
I expected that this concept included that restaurant, but that doesn't appear to be the way it works.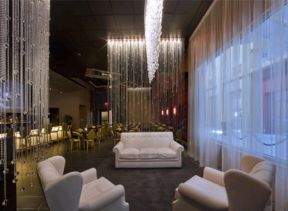 The theater has been completely redone, and I must admit it was very impressive. The lobby was just phenomenal. Above the ticket counter, they have the movie posters on screens, with their trailers playing in the middle of the poster. I admit, I thought that was pretty cool. You select your seats on a touch screen once you decide on your movie. All seats are reserved, and the theater caters to the 21 and over crowd with a lobby bar, and alcohol available from the wait staff once you're in your seats.
The seats were fabulous leather seats that were plenty wide enough for my fat butt, but those seats cost a lot. The total for the two of us was $29, meaning seats were $14.50 each. I often evaluate movies in my mind based on how much I spent seeing them. In other words, I might think a great movie was worth every one of the $9 I spend at most movie theaters, and in other cases, I might wish I'd spent the $3 to rent the movie. So while I might be willing to pay $15 to see a movie, it's gonna have to be a very good movie for me to think it's worth the price.
I did appreciate showing trailers for high quality nature films rather than the annoying slides and advertisements usually shown.
During the time leading up to the "coming attractions," you have a chance to order from a small menu that includes appetizers, main courses and deserts. As noted previously, you can get the usual sodas, but also mixed drinks, beer and wine. We were taking in a later movie, and had already eaten, so we didn't order food. But two couples in front of us did. (Popcorn and over traditional movie fare is available, but the waiter made it clear we have to get that ourselves.) There is a small airplane size tray table that swings to you for eating, but it doesn't allow a lot of room, and the portions and dishes are small.
The folks below us ordered a main course only, and a glass of wine. The price was $50, so that means their entire evening was around $80. (A 17.5% gratuity is included in the bill, something I've never really liked.) The meal service is completed prior to the start of the movie, and if you want more drinks once the movie starts, you get those yourself. So, if you want to eat at the theater, you have to get there enough in advance to be seated and make your selections prior to the start of the coming attractions.
While I appreciated that there were not servers moving around during the movie, I can't imagine sitting there for a two-hour movie with empty dishes sitting on a tiny table in front of me.I was hoping and expecting the food service would be in the original restaurant.
Cobb has opened seven of these theaters. I think if the concept is going to work, Hyde Park is probably the place where it will work. It was, for us, a pleasant experience, but I think to do the whole thing (dinner and movie), the cost is a bit high. We'll see how well the concept can catch on. Lay thinks they won't make it. I think they might.
Do you have an opinion yet on this theater and the concept?