It really doesn't get more appropriate than this. National Organization for Marriage (NOM) head, Brian Brown, tweeted out the picture below a couple of days ago from his "commencement." The Coalition of African-American Pastors, a co-sponsor of NOM's hate march on the Supreme Court next week, awarded Brian an honorary doctorate  of letters degree from the American Urban University.
It should be noted that the American Urban University corporation was suspended a while back. The president of American Urban University was (self-named) Bishop George D. McKinney from St. Stephen's Cathedral Church of God in Christ in San Diego, CA. Bishop McKinney is one of the organizers of Coalition of African-American Pastors. It should be noted, the "university" is a townhouse in Long Beach, CA. Check it out, 224 E Randolph Place Long Beach, CA 90807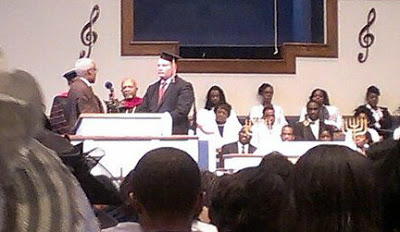 So let's see how this all adds up:
Catholic and Mormon tithes spent to keep gay people as second class citizens – Nearly $50 million;
Salary to Brian Brown from his hate group from those same sources – ~$250k
An ill-fitting mortar board at a jaunty angle on a head that's two sizes too big at a fake graduation from a fake university presented by a fake Bishop – Priceless.
Seriously, it's like at the last-minute someone realized they needed to try to at least make it look like something legitimately academic so they found a mortar board in the kindergarten Sunday School class.