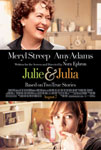 Based on two true stories, "Julie & Julia" intertwines the lives of two women who, though separated by time and space, are both at loose ends until they discover that with the right combination of passion, fearlessness and butter, anything is possible.
Genres: Comedy and Adaptation; Running Time: 2 hr. 3 min.; Release Date: August 7th, 2009 (wide); MPAA Rating: PG-13 for brief strong language and some sensuality.
Starring: Meryl Streep, Amy Adams, Stanley Tucci, Chris Messina, Jane Lynch
Directed by: Nora Ephron
I watched this as an Amazon On-Demand movie one evening last week while Lay was at work. He was not interested in seeing this movie, but I was. And I found myself enjoying the experience.
Nora Ephron likes to observe how two people meet and bond with each other, ultimately forming a relationship that we hope will transcend time, and like in her previous films, she manages to nuance both characters seamlessly and bind them in our eyes to a point where we can't care for one without wondering what will happen to the other. It is a rare accomplishment.
The film is based on two true stories. First there's the story of the world-renowned Julia Child, who wrote the American classic "Mastering the Art of French Cooking." It is the story of Julia's arrival on France in 1949, how she learned to cook, and how she went about co-writing the book with two of her friends. The other story happens in 2002. It follows Julie Powell, a government worker who lives atop a Pizzeria with her husband, and who decides that to find some meaning in life she'll cook all of Julia Child's recipes in a maximum of one year, and write about the experience in a blog. The film seamlessly interweaves these two stories, with Julia's life experiences going into her cookbook, and those experiences wafting through the years to Julie's kitchen.
The film may seem, at first, unimpressive…and it is, to a point. It's a biopic, and we must admit that lives are seldom as impressive as Hollywood makes them out to be, so don't be expecting ingenious plot twists or the characters coming full circle at the end. The film portrays the life of America's most beloved cook and of a woman following in her footsteps. Just that. But it is amazing how the lives of these completely different women are similar, even though they live in different centuries and countries. They're both: happily married, they both experience an important move at the beginning of the film, both take up cooking to fill up an emptiness in their life and both harvest so much passion and art from what they cook; both are writers, but find almost the same hardships when looking for publishers, both have similar marital problems, and at the end they both understand how life works for them.
Ephron knows how to relate two characters. These two women have never met, but they're so similar and share so much that we wonder whether they may be family. And notice how Julie adores and reveres Julia, even though she's never met her, and how Julia is the motivation and spark behind Julie's life even if she's not aware of her existence. Meryl Streep as Julia Child takes over what could be an uninteresting story and injects it with glee and joy with a powerful and entrancing performance, an Oscar-worthy one. Amy Adams as Julie Powell is very good too, depicting a typical struggling American woman and bearing her heart for the audience. Her story is a bit uninvolving too, but her performance does wonders for what could otherwise be a stale film.
"Julie & Julia" has two seamlessly intertwined story lines and two superb leading ladies. The cinematography and editing are very well done, but not spectacular. The production design is very good, actually, especially on the Julia storyline, recreating bourgeois France in 1949 and seeping us into the charming and infectiously fun lifestyle she led.
It's not the movie of the year, but Streep and Adams and outstanding, and all the supporting characters are excellent. The screen play is very interesting, and the two stories are woven together nicely. This is is a movie well worth watching.