Some time has lapsed since the horror that was the Newtown shooting, and now there have been even more gun deaths, and five people were shot accidentally on "Gun Appreciation Day," hastily thrown together by the gun nuts. I grew up hunting with my Grandfather and other friends. I know my away around guns, and believe they are something that responsible people should have for sporting purposes, but extremists have gone entirely too far with the rhetoric, and their arguments that every person should have totally unfettered access to any kind of gun. So I want to put my spin in the discussion and dissemble the arguments that I keep hearing circulated.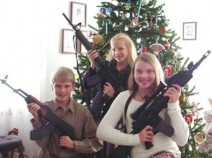 First, let's cut right to the chase on the primary argument that seems to be implied by nearly every gun nut out there. They seem to think that any regulation whatsoever results in them having their guns "pried from their cold dead hands." I'm tired of hearing this. None of the laws I've heard proposed make anyone surrender any guns, and nothing that's been proposed includes the elimination of all gun sales. We have always had regulations for the sale of guns, and there are still plenty of guns in circulation.
As a society, we have, for nearly the entire life of the Republic, recognized that many things we are entitled to as rights, can still be reasonably restricted to make sure we can all get along. You have a right to free speech, but can't yell fire in a crowded theater. We live by the principle famously attributed to Supreme Court Justice Oliver Wendall Holmes, "The right to swing my fist ends where the other man's nose begins."
So stop already with the claim that any regulation would somehow prohibit you from owning a shotgun for shooting quail, or even a handgun. It's just not true.
The other continuing meme that Obama is preparing to take all our guns is beyond ridiculous. His base has been in favor of stricter gun control for the entire time he's been in office, but up until Newtown, his Administration had never touched the subject.
I'm also tired of the argument that the Constitution provides carte Blanche for gun ownership. Let's take a look at the language of the Bill of Rights. Amendment I famously begins with the prohibition, "Congress shall make no law…" The founders clearly gave thought to the wording of these original documents. They proscribed the making of laws that regulate some of the rights they believed we inherited, and they used very specific language to do that. They did not, in Amendment II, make any statements limiting the authority of Congress to regulate the ownership of guns. I believe, given the wording of other Amendments, had the people of the time intended for gun ownership to be completely without regulation, they would and could have written it right there in Amendment II. Continue reading »