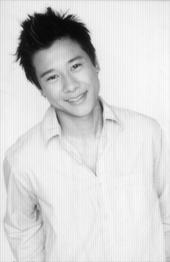 A recent movie we watched on DVD was the 2008 movie "Baby." It was a well made movie that provided a tense and gritty look at gang life in East L.A. I was especially impressed with the actor who played the Character, Baby, David Huynh. After reading up on him, I was especially impressed at how authentic he made the character, but he seems to share none of Baby's background.
Huynh won a Special Jury Prize at the 2007 Los Angeles Asia Pacific Film Festival for Emerging Actor. I can concur with that. As noted, he played the part with sophistication and intensity, and it came across as very authentic. His acting was very subtle, but he conveyed a depth of emotional strain.
Huynh is a from Canada and has performed on both Canadian and American theater, television and film productions. David was seen on Canadian television on YTV's "2030 C.E." and appeared in Kiefer Sutherland's directorial debut "Woman Wanted". His stage performances include "Jacob Two-Two Meets the Hooded Fang" and Berthold Brecht's "The Caucasian Chalk Circle". David studied at The Prairie Theatre Exchange, and was a student at The University of Manitoba, working on a major in Theatre and a minor in Film studies. Hardly the background to so convincingly portray an L.A. gangster.
He's also been on U.S. television as Sun Kim on the ABC program, "Invasion". But certainly his role as the title character in Baby has been his breakthrough performance. Unfortunately, I don't think it was seen by enough people.