Recently, a person posted on a conservative Methodist Facebook page about the words used at a Communion Service he had recently attended. Apparently, this set him into a real tizzy, because the Officiant didn't follow the exact words of the Liturgy from the Hymnal. And you wouldn't believe the discussion that followed.
So here's the original post:
So, at a Cluster service last night, the Elder leading Communion said something to the effect of "on the night before he gave himself up to be crucified, and when all of the disciples, women and children were gathered in the Upper Room, Jesus took bread…." I was told not to sweat the "small stuff", but really!?!? To me it's a total abuse of the Sacrament and a rewriting of the Gospel but God forbid I would make an issue of it as an LP [lay person]….
Now, let's keep a few things in mind about the Last Supper. It was NOT a Christian event. It was a Jewish Sadar meal. Jesus was, despite what modern-day Christians seem to think, not a Christian. He was born, lived, and died as an observant Jew. The Sadar meal actually includes a part for a child. There was bread, and I'm betting it wasn't baked by any of the male Disciples. There were almost always women in Jesus' entourage. There were female Disciples, and women who supported the group financially and in logistical ways. So, despite Da Vinci's rendering (and pretty much all others), being devoid of women, it's almost impossible to believe that there were not women and children present.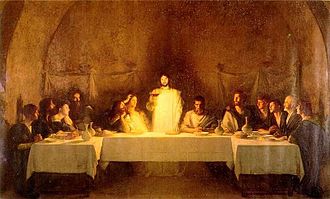 Continue reading »