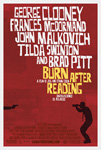 An ousted CIA official's memoir accidentally falls into the hands of two unwise gym employees intent on exploiting their find.
Genres: Comedy and Crime/Gangster; Running Time: 1 hr. 35 min.; Release Date: September 12th, 2008 (wide); MPAA Rating: R for pervasive language, some sexual content and violence.
Cast: George Clooney, Frances McDormand, John Malkovich, Tilda Swinton, Brad Pitt
Written, Produced and Directed: Joel Coen and Ethan Coen
I wasn't sure it would be as good as he thought/ In the end I am so glad we went. This is a very good dark comedy. The story is all over the place, yet the Coen brothers find a way to bring it all together at the end. This movie contains great acting including superb performances by Brad Pitt and John Malkovich. Viewers that do not enjoy dark comedies or movies that do not follow linear plots will not enjoy this movie.I thought the acting was excellent and the storyline was unexpected and fresh! I would even go see this one again!