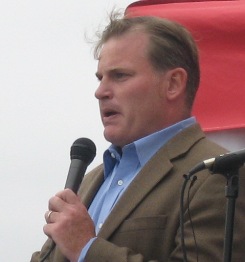 Brian Brown of the anti-gay designated hate group National Organization for Marriage (NOM), and Bryan Fischer of the designated hate group American Family Association (AFA), both have their knickers in a twist over recent court ruling out of New Mexico. In this ruling, the New Mexico Supreme Court ruled against a Albuquerque wedding photographer, Elane Photography who refused to work with a lesbian couple citing her deeply held religious beliefs.
"This decision is outrageous. While simultaneously admitting that this decision will harm the Huguenins, the court uses its full power of coercion to force them to compromise their beliefs," declared Brian Brown, NOM president. "This is not what this country was founded upon; governmental coercion has no place in the public square never mind the freedom of religion supposedly enjoyed by the Huguenins."
NOM and scholars on both sides of the issue have long agreed that redefining marriage will be a direct threat to Americans' First Amendment right to the free exercise of religion. Increasingly, gay-'marriage' activists are using the courts to force people of faith to violate their beliefs when a myriad of other options exist for the same-sex couples in question.
"While the court calls for compromise, they got it wrong in this case," continued Brown. "The Huguenins should not have to compromise. Their beliefs are constitutionally protected. But the Willocks could easily have compromised by going to another photographer who would not have had such a conflict. Instead the Willocks forced the issue and used the power of the court to put the Huguenins in an impossible position – compromise their beliefs or give up their livelihood. There is nothing just about that."
What Brian doesn't get, or doesn't want to get, is his lack of understanding about how the freedom of religion clause works. First, these folks are not being coerced, nor required, nor ordered to alter their religious beliefs on iota. They can stay the hateful, small-minded, bigoted people they are today, clinging to an inaccurate interpretation of an ancient text. The court hasn't said a single word about that. They can still pray to the god, gods, or goddess of their choosing. Again, nothing's changed. So stop with the drama queen routine Brian.
More than 200 years ago, Americans decided to develop and live in a societal arrangement governed by civil laws, underlying a set of inalienable rights. They even felt compelled (because this was a committee effort after all) to enumerate some of those rights. One of those was a right to religious freedom, but another was the right for each person to receive equal treatment within that society. Now I admit we're still trying to perfect that concept, but what it means is, your individual rights will, sometimes, seem to you to be restricted, because the larger societal rights will take precedence. But that's not even the situation here. They aren't being forced or coerced into changing their religious beliefs.